Developer Spotlight: Why we rebalanced the Totem feature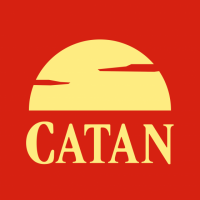 CATANEir
Developer
Posts: 38
Game Developer
Greetings Explorers,
Recently we made a substantial change to how much it costs to use your Totem. With this change it became more expensive to enter a Settlement, but cheaper to move the Totem and harvest Resource Centers. You can read more about this here. 
Ultimately, it came down to this because players were not spending totem tokens freely enough. We believe this is partly because while all interactions cost 1 Token, not all interactions were equal in value. Typical Totem Token usage was to park a Totem in an area with multiple Settlements and never move it again. Furthermore, Resource Centers were significantly under-used for the same reason: Totems stay immobile. With all costs being equal, the value was in NOT moving your Totem and just entering a Settlement to roll dice and play as many cards as possible. This isn't in line with the vision of CATAN – World Explorers as a game about movement and exploration. Even if you are at home, we want Totems moving, and we want players making active decisions that include visiting both Resource Centers and Settlements. An example of an interesting decision is to wait another 20 minutes for a Harvest Dice timer before moving to interact with a new location. The decision to never move the Totem because it is in a hot spot is not an interesting gameplay decision.
We investigated free movement for Totems, which did not make the cut for a few reasons. The main reason: The Totem system was set up in a way where reducing a cost to zero broke it and opened it up to exploitation. We also looked into merely tweaking the numbers just a bit, say: 1 Token to move, 2 to interact with Resource Centers and 3 to interact with Settlements. However that still meant doubling or tripling costs, while keeping the relative differences between actions too close together. We didn't want to adjust the costs to 1/2/3, just to then adjust them again to 1/3/5 a few weeks later and so on. Better to adjust once and leave it as it is. 
With the Totem Token cost rebalance we planned to adjust Daily Quest rewards from 2/4/6 (Free/Easy/Hard) to 20/30/40. Though in testing we realized that the daily quest UI broke if you increased Totem Token rewards to any number above 30. So we made the call to go live with 10/15/30 as rewards – and we made it a high priority to fix the UI bug. Today we adjusted the quest rewards to their intended values. Read more about this here. From just the free daily reward, you can now visit a Settlement which would take up most of your daily earnings, or visit up to four RCs. Perhaps a move or two, swipe two RCs of a scarce resource and keep the change for tomorrow? There are far more interesting choices to make with Totems now, with less of a penalty to just get it in position.
While we can understand that this change to Totems came as a shock to some of you, we believe that it was a necessary change for the long term health of the game. We want to keep Totems dynamic and fresh, instead of incentivising hoarding. Also we want them to be used in a variety of strategic ways.
To give you the opportunity to try out the new system, we have just sent you 80 Totem tokens for free to collect via your inbox. So don't forget to collect your reward and happy exploring!
Yours
CATANEir and the CATAN – World Explorers Team
Post edited by CATANFiona on
Tagged: