Meet the Catanians! Learn more about Gilda, Fenni & Armando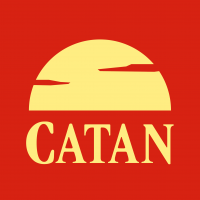 CATANdominik
Administrator, Community Manager
Posts: 95
Community Manager, Global
Greetings Explorers!
It's time to meet the Catanians! There are many characters you can meet during your travels, and plenty of opportunities to befriend them. But these three Catanians will be part of your journey from the very beginning!
Let's give them the stage:
Gilda, The Gamemaster
Gilda kickstarts your journey as a helpful guide, inviting you to Harvest, Trade, and Build and participate in a friendly competition. She hosts the game of CATAN – World Explorers and probably knows more than she is letting on. So don't be fooled by her appearance: she is an expert on the rules – not surprising, as she came up with them herself – and a fair judge.
Fairness and ensuring a fun competition is important to Gilda, so don't expect her to take sides for your faction. While she might not cheer for you, you can expect her to check-in on you from time to time, giving you an update about your daily success, introducing new features, or helping you to figure out how to explore and succeed. Expect the unexpected: just when you have figured her out, she might surprise you with a twist or new objective!
Fenni, Your New Best Friend
Fenni is Gilda's trusty sidekick and ever-present companion. Despite being a sheep, she approaches the world with the excitement of a playful puppy and bounds around the board with unbridled joy, serving as a bubbly balance to Gilda's calm demeanor.
Gilda's companion likes to follow Explorers all around the world. Always curious of what you are up to next – chasing your dice, prancing across the board, or just hanging out. 
Armando, The Shepherd
Explorers across the world have heard of Armando – his craftiness and his record-breaking sheep-shearing speed is known to many. He loves the competition of CATAN – World Explorers and is a true master of Harvesting, Trading, and Building. Armando knows the best strategies to the game and was a competitive Explorer back in the day – though he mostly keeps this knowledge to himself.
Armando has retired from the competition and helps Gilda to run the Seasons and the special competitions and events throughout the game. He likes to present new challenges to the next generation of Explorers to see whose team can push for the win this time. Armando likes to give credit where credit is due when a Faction wins the Season competition, though he always has a soft spot for the underdog.
We hope you enjoyed meeting Gilda, Fenni and Armando!
Let us know who is your favorite.
Yours
The CATAN – World Explorers Team
Post edited by CATANdominik on